Digilocker is with everyone today, because in this we can keep our certificate, driving license and other important papers as well, but some people create an account but cannot delete or remove it, so today we will know how to delete Digilocker Account, Digilocker documents.
What is Digilocker?
The Digilocker facility was started by Narendra Modi in July 2015. But the rules related to this were issued in 2017. Digilocker or digitallocker is a kind of virtual locker. Digilocker aims to reduce the use of hard copies and easily share e-documents across agencies and other departments.
How To Delete Digilocker Account?
You can delete Digilocker account only through e-mail, for which you will have to send a mail to Digilocker team, after which they will mail you to confirm. The account will be deleted only after your confirmation.
You open your Gmail and click on the button of "compose".
Now write "[email protected]" in the To section.
Write Request for digilocker account deletion in the subject.
And write your valid and genuine reason and click on the button of "Send".
After this process, you will get a mail from the team of Digilocker, in which it will be written that your Aadhaar card will not be deleted from Digilocker Account because all the documents have been issued from it, by deleting which your documents will also be deleted. If you want to do, then confirm that you want to delete your account.
After you confirm, you will get a mail that your Digilocker account has been deleted.
Know More: How To Download YouTube Videos in Mobile Gallery(2023)
How To Delete Digilocker Account's Documents?
First open your Digilocker application and click on the 3rd option "issued" on the right side.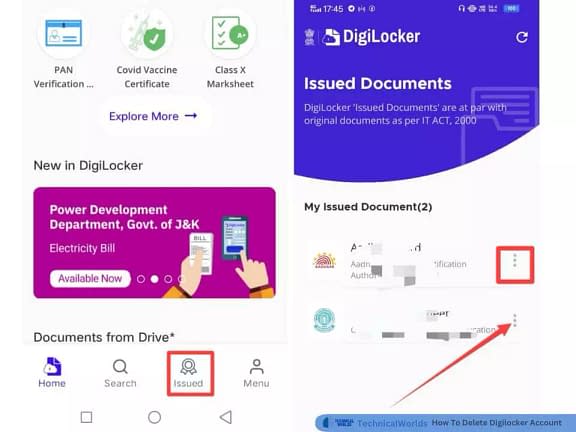 Now all your issued documents will appear in front of you.
Click on the three dot button on the right-side of the documents you want to delete.
After clicking on the three dot button, some options will be coming in front of you, out of which click on the 7th option "delete".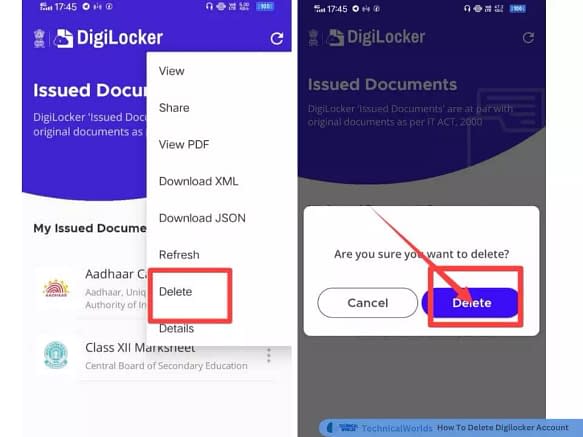 And then a pop up will appear in front, in that also click on the button of "delete" and Now your documents deleted from Digilocker's account.
Can I access Digilocker without Aadhaar?
Yes, you can access Digilocker even without Aadhaar card number. Aadhaar card is used to issue your documents from any agency, your verification is done with Aadhar card, without this verification you cannot issue the documents in Digilocker.
Can we show Digilocker documents to police?
Yes, you can show the issued documents from Digilocker to the police officers. Documents issued from Digilocker are completely valid.
Conclusion
So today you learned how to delete Digilocker Account and Documents, many people create Accounts or issue Documents from Digilocker, but later they do not understand how to delete it, which is no longer a useful document. is no longer available or you no longer need it. So in this way you can easily delete Digilocker account or documents by reading above given methods.
So how did you like our How To Delete Digilocker Account article, if you have any question, then you can ask in the comment box, we will surely reply to you. If you like our article, then tell us by commenting in the comment box below.