today we will tell you that How to change font style in Whatsapp without any app because Many people chat on WhatsApp, but many people write on WhatsApp by changing the font of the text, which is also nice to see in some scenarios. But a question also sits in the mind of the person in front.
How did this change? Some people change through the application. And some people with tricks, but after reading this article, you will get complete information and you will be able to change the fonts of Whatsapp very easily and surprise the people in front.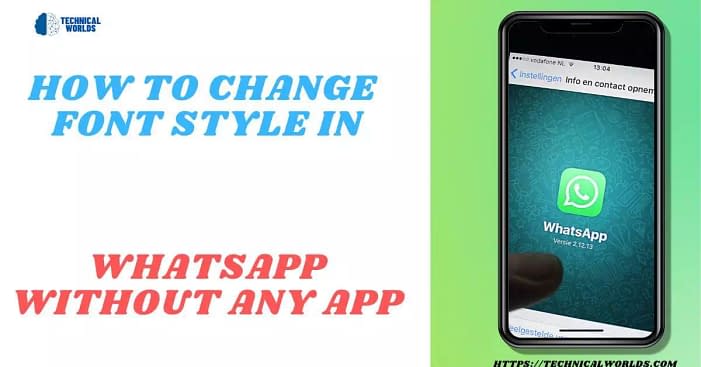 How can I change font style in WhatsApp?
You can change the font style on WhatsApp by some ways which are given below.
Using FontsApp Keyboard
Change Whatsapp Text in Bold
Italic and Strikethrough
change font color
Using FontsApp Keyboard
You can easily change the fonts of WhatsApp with FontsApp Keyboard, for which you will first have to install an application which you will be seeing in the photo below.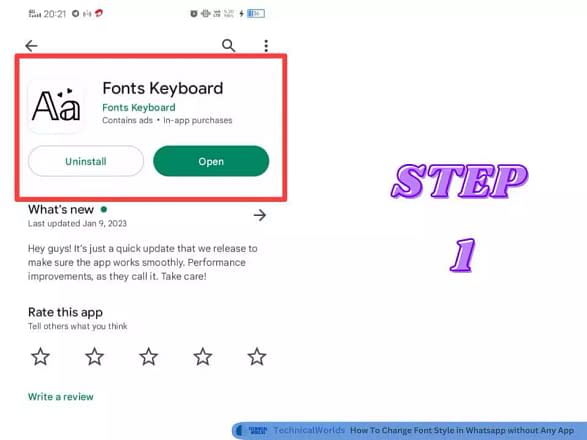 Now open this application. Now some options will be showing in front, click on 1st option "enable fonts keyboard".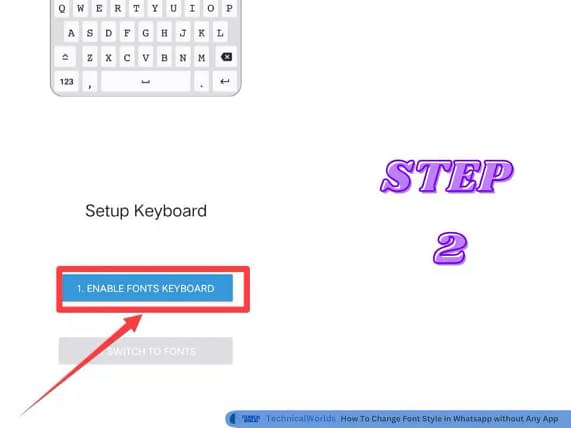 After clicking on the 1st option enable fonts keyboard, the option of keyboards will be coming in front of you. "Enable" the fonts keyboard from that.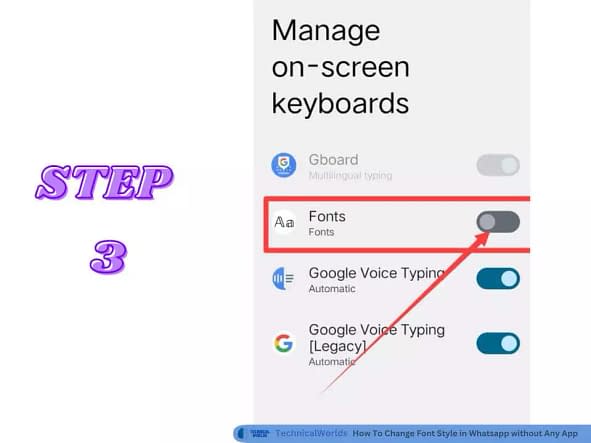 Then a pop-up will appear in front of you, in which it will be written that whether you want to use this method or not because it will store the data like the passwords you write, any number etc.
How To Download YouTube Videos in Mobile Gallery(2023)
Now click on OK and then you will come back to the application automatically. Now where the 2nd option "Switch to fonts" will be written, click on it.
After clicking on the 2nd option "Switch to fonts", you come to your WhatsApp and you will see that many fonts have been added in the section above the keyboard, on which you can click and change it in that font. And now you can send stylish messages to the person in WhatsApp in any font.
Change Whatsapp Text in Bold, Italic and Strikethrough
You can change the text of WhatsApp in bold, for which you do not need any application. Go to your Whatsapp and type whatever is written.
For Bold
To make bold, put star (*) in front and behind of your sentences and after applying star, your message will be changed in bold font.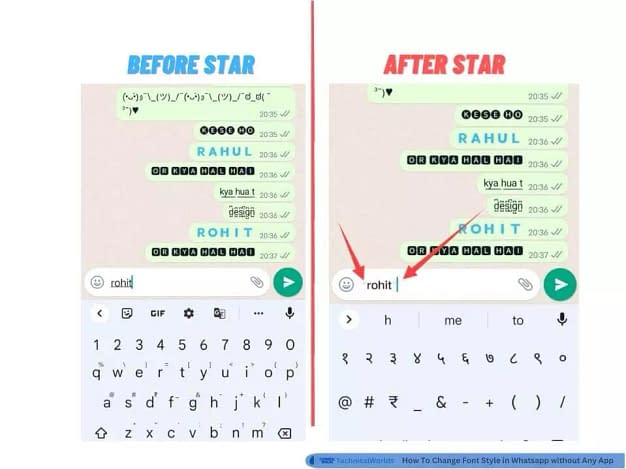 Strikethrough
To change in Strikethrough, you have to put tilde whose sign is this (~) in front of and behind of your written sentences. Now your written sentence will be changed in Strikethrough font.
Italic
To change your sentences in Italic, you have to put the sign of Underscore ( _ ) at the beginning and end of your sentences. Your sentences will be converted into Italic as soon as you put the underscore sign.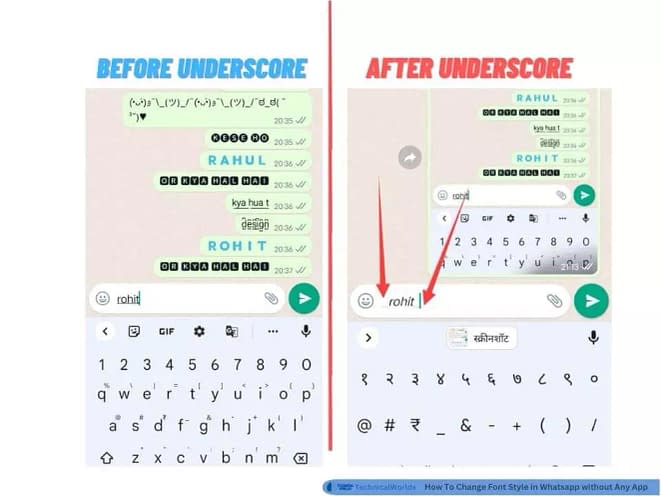 FAQ (Frequently Asked Questions)
How long do deleted messages stay on WhatsApp?
Deleted messages stay on WhatsApp only For 12 Hours.
What is GB in WhatsApp?
GB WhatsApp is a third party Whatsapp client application.
What is the maximum GB for WhatsApp?
the maximum GB for WhatsApp to transfer file is 2GB.
Conclusion
So today you have learned How To Change Font Style in Whatsapp without Any App, because many people do not understand how the person in front is typing in different fonts, due to which their message becomes even more stylish. You can make your WhatsApp chat beautiful by following the methods mentioned above.
So how did you like our How To Change Font Style in Whatsapp without Any App article, if you have any question, then you can ask in the comment box, we will surely reply to you. If you like our article, then tell us by commenting in the comment box below.