Today we will tell you what is Google's New AdSense Side Rail, how you will get to see it on your website. You must have see this notice regarding to Side Rail ads on your AdSense Dashboard if you use Google AdSense to earn Money From your Website.
Welcome to our website TechnicalWorlds.com. Through this website, we inform you about everything on the Internet, today we will tell you what is Google's New AdSense Side Rail, by reading this article you will understand New ads Format which is lunched by google and some information related to google AdSense.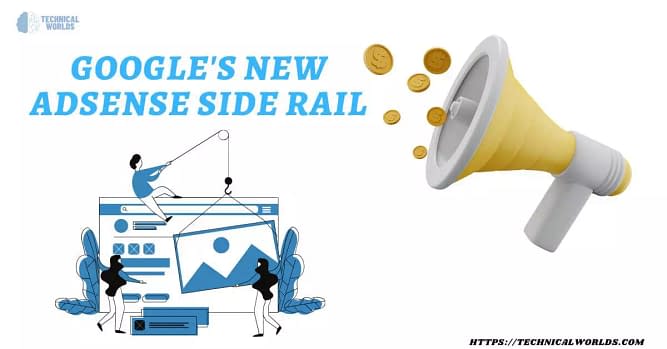 What Is Google AdSense and its uses?
All of you must have heard about Google AdSense and must have seen this service for blogger, Google has come out, in this Google runs ads on the website, which is promoted and as many people reach that promotion, Google gives you money. This money is given to you in United States Dollar ($), which you can transfer to your bank account if it is at or above $200.
Also Read This :-
latest Research in Artificial Intelligence (2023)
Type of Ads Formats
Google gives many formats of ads, so that you can place ads of your choice on your website, some ads are small and some are big, the format of all the ads below has been told.
1.Display Ads:
Display ads are not of one size, its size can be big as well as small, you can keep its size according to yourself, you can put it anywhere, it is not necessary that you put it in one place like you put it in the header section. You can put it or if you want you can put it in the footer section.
2.In-feed Ads:
If you get to see some website foot ads along with the article, then we call it in-feed ads, you will get these ads in Two Size Square and rectangle
3.In-article Ads:
You will get to see these ads inside the article, you will get them in two sizes, square and rectangle, in this you get two options, one is ads with picture and the other is ads without picture (only text).
4.Multiplex Ads:
As you must have understood from its name, these ads are multiple, that is, you will get to see 7 to 8 ads in one size, it has two types, one square, one rectangle, in one place there are ads for many things.
What is Google's New AdSense Side Rail?
Side Rail Ads is a type of ads format which will be shown on the side, these ads can be shown only on large screens, such as desktop tablets, it will remain glued to the side of the article, no matter how much the user scrolls, these ads will be shown. This will increase in earning, because tomorrow it will always be visible, this ads format will be launched on 13th December.
What do Side Rails appear Like?
As we told you that these ads will always be visible to you even after scrolling and these ads are like sticky ads, it gets stuck at one place, which you can see in the picture shown below.
Note : The layout of Side Rail has not yet been published officially by Google.
Conclusion
So today we told you what is Google's New AdSense Side Rail, how will it work and other types of ads format of Google, by which you can earn money through your website by putting it in your website.
How did you like our article Google's New AdSense Side Rail, if you have any question, then you can ask in the comment box below, we will definitely answer your questions. If you like our article, then you can tell by commenting in the comment box below.