Today we will tell you BMW's New Color Changing Car Concept, and how this technology works. As you know that slowly the car is getting advanced like flying water
but this time something else has happened BMW which makes very expensive cars, they have launched a new car, the specialty of which is that it changes its color. Change: So let's know about this car.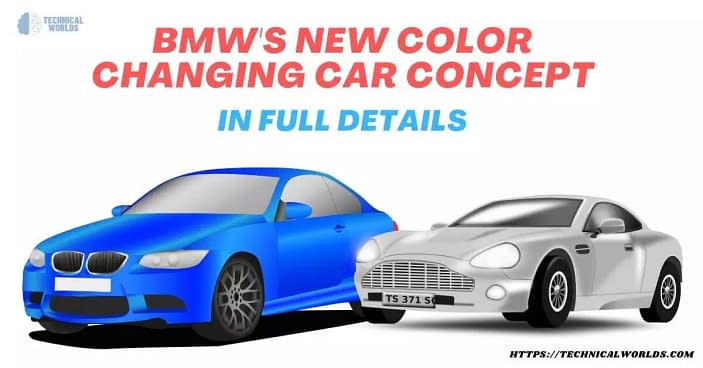 Also Read:-
What is Ai Camera | Full Information (Click here)
New Color Changing Car – BMW
BMW's new color changing car concept was introduced by BMW at one of its events "BMW CES 2022". BMW has launched a new car that can change color. This technology will be seen in BMW's Xi Flow model. This car will change from black to white.
This is a completely electric car in just one click, although you must have known about many color changes such as dual tone paints, Metallic Paint etc. on this New Color Changing Car – BMW color change method is completely electrical which You can control from your smartphones.
Even you can change different components of the car in different colors with one click. So let's now talk about how this technology works.
How BMW Color Changing Technology Works
The car is covered with a specially developed body wrap, in which millions of micro capsules are suspended inside a liquid. These capsules actually contain two types of pigments, white and black, which have different charges when the electric supply is applied to the wrap. If it is given, it starts changing, the black pigments in it are positively charged and the white ones are negatively charged.
if you give it a positive charge supply So its black pigment will go back and white pigment will come up which will change the whole car in white color and if you supply negative charge then its white pigment will go back and black pigment will come up which will turn the whole car black. will change color.
Advantage of This Technology
You can whiten the color of the car in summer, due to which the temperature inside your car will remain cool and there will not be much load on the AC of the car because the white color reflects the heat.
You can change the color of the car from white to black at the time of cold, due to which you will get relief from cold because black color absorbs heat.
The performance of the car will also be boosted because the electric components work better at a regular temperature.
You can get the car completely flashed, due to which if you are at such a place where there are many cars of the same color, then you will get help in identifying your car.
The car does not consume extra charge or electricity to maintain the same color for a long time.
Right now this technology is in its concept form.
Some problems related to this technology;-
As you all know that according to the rules of RTO, you cannot change the color of the car without the permission of some agency, so if this car comes in the future, then there will be changes in the rules of RTO, maybe or maybe you will get a Request has to be submitted for car color changing through online medium.
Conclusion
So we told you about BMW's New Color Changing Car Concept, now BMW is working on this concept and maybe we can get to see such cars in the near future.
So how did you like our BMW's New Color Changing Car Concept article, if you have any question, then you can ask in the comment box, we will surely reply to you. If you like our article, then tell us by commenting in the comment box below.